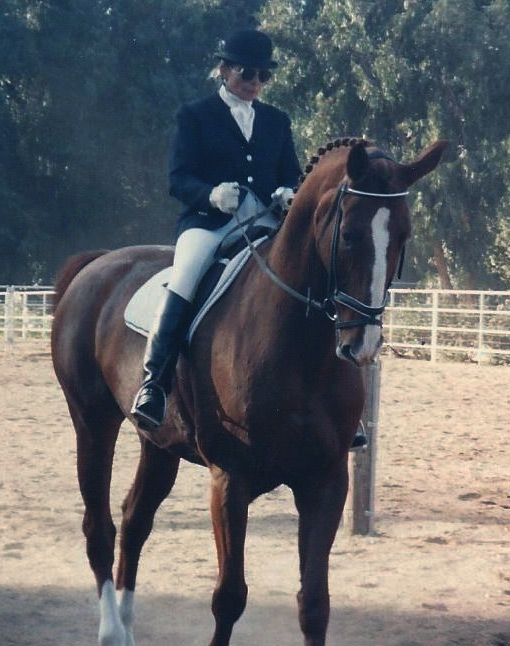 To Janet, the bond between her and the horse has an intensity of spiritual proportions, and she encourages that bond in all of her students and their equine companions.
Janet Reed is a United States Dressage Foundation (USDF) associate instructor, with students of all ages and skill levels. She's been training horses and riders since 1965, but that is only part of the story. The rest of the story begins with Janet's humble beginnings on a small farm in the west San Fernando Valley.
Living in a rural community, Janet took every opportunity she could to learn more about her true passion: horses. One of her neighbors kept horses, and Janet would question him for hours and hours about the animals. He was patient and kind enough to answer Janet's endless curiosity about the horse, helping her to fuel her passion and become more knowledgeable.
The family owned a horse, and that creature became Janet's test bed for all of the answers she received. Furthermore, she spent countless hours at the local roping ring, asking even more questions and watching for solutions. She also had the benefit of a father and grandfather who were kind and respectful of animals, and helped quench Janet's growing thirst for more information about horses.
As a young person, Janet had the opportunity to ride in a pseudo-military group. In this experience, she learned some of the concepts of horsemanship and put in many hours of training. This was, in fact, where Janet began to learn to ride in a saddle – she had ridden bareback from her earliest years until she was 13 and joined the pseudo-military group.
Janet was blessed with an insatiable thirst for answers about horses and horsemanship, as well as her agricultural education. Rodeo riding and, eventually, corporate farming all influenced her as she grew in her horsemanship skills.
Janet continued to progress as Rider, Instructor, Coach and Trainer. She instructed at Los Angeles Equestrian Center, Paddock Riding Club in Burbank, trained Navy Seals at Miramar Air Station to go on to Afganistan, and started her own Kan Du Riding Club. She attended Clinics and Courses at USDF to form a foundation to become a Certified USDF Instructor.
Prior to her Certification with the USDF, Janet had many opportunities to train with former Olympian greats in Germany and Sweden, as well as here in the United States.  Since 1980, Janet has continued to worked with multiple Olympic Champion, Hilda Guerny, former Olympic Coach for the USA, Mella Von Brugen, audited clinics with Sandy Pfleuger and Kyra Kirkland, trained with Jan Ebling, trained in Sweden in 1990 with Nina Malgrem, trained also with German & Spanish approved trainer, Elvira Leur from Germany and also trained abroad in Germany in 2006.
Along with her impressive training background, Janet also attended USDF Judge Training Courses, became a Certified Trainer with USDF and minored in Equine Science through USDF. Janet was also a California Dressage Regional Champion and a California Dressage Society Champion.  Janet has also coached award winning students at California Dressage Society and United States Dressage Federation Competitions.
Most recently, Janet has ridden with Peter Bortgrav, Senior Trainer of Stable in Warendorf, Germany, as well as audited clinics with Peter.