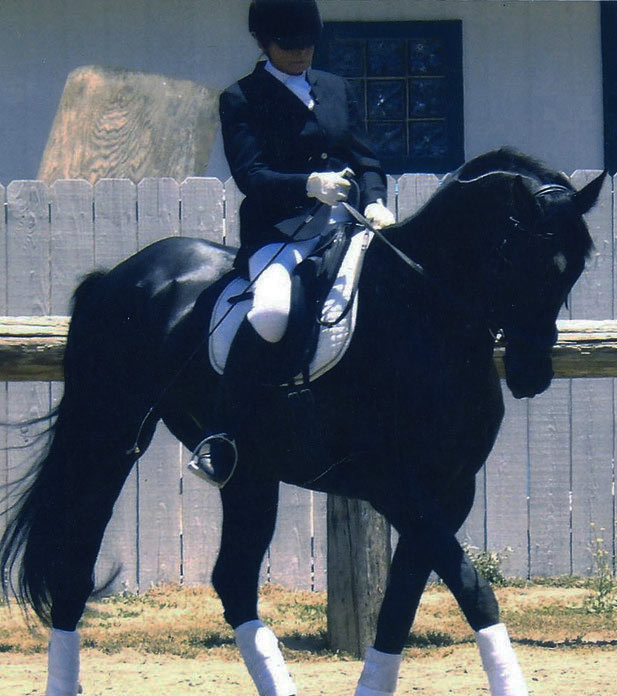 "God has blessed me with an insatiable thirst for questions about horses."
Whether it's starting a horse, retraining, correcting or teaching, every horse is an individual with a different background and must be allowed to progress in its own time and with confidence.  After the initial evaluation of the horse, my goal is to devise a plan to give the horse a pleasant learning experience, the tools and the confidence to be safe and responsive and to give the rider his or her ultimate relationship and experience. Horse owners are encouraged to participate in the training in order to carry on what the horse has learned and in the horses' future.
LESSONS
Whether you have never mounted a horse, want to improve your skills or have been competing for years, Janet will tailor a program specifically for your individual needs and goals.
Every series includes Rider and/or Horse Evaluation, Goal Setting and Horsemanship Training.
Before even mounting a horse, Janet will devise a plan for you to achieve your Horse and Rider Dreams.
THE CLASSICAL RIDING SERIES
After your first evaluation and goal setting consultation, Janet will teach you how to develop a bond with your equine partner. You will learn how to recognize how your horse is feeling and overall health just with basic care and grooming.  From grooming to saddling and everything in between.  How you handle your horse on the ground, is essential to how the horse will respond to you under saddle.
"I just want to ride!" Basic Riding Lessons are designed to provide a solid foundation to help you achieve your Rider and Horse Dreams.  It all begins with teaching you balance and a correct seat, which will allow you to achieve your goals and provide a safe ride for you and your equine companion.  Ride as much as you want or as little as you want. Janet will work with you to make your riding goals a reality.
THE ACADEMY TRAINING SERIES
ADDITIONAL
Full/Partial Training – Bring out the best in your horse with Full Training (5x/week) or Partial Training (3x/week) packages. Expert ground training, problem correction, under saddle training and ground to under saddle transitional training is available to enhance you and your horses' riding experience to that next level. Training sessions may be substituted for riding lessons, farrier or vet services.
Travel and Trailering Services –  Available locally or out-of-town. Whether you are moving your horse, purchasing a horse or traveling to a show, trust an experienced and caring professional to give your horse expert and safe care during travel.
Show Coaching – Have an edge at competitions with personal coaching. From warm up to the show ring, Janet will prepare you and your horse mentally and physically to give you the ultimate show experience.
Sales & Consultation – Purchase consultation and equine sales services are available. Rely on an expert eye to find your dream horse or sell your current one to purchase your next dream horse.
Out-of-Saddle Sessions – Saddle Fitting, Standing for Farrier or Veterinarian and other handling services are also available.
Equipment
It is preferred that the rider have a good pair of riding shoes and his or her own helmet. From the very first lesson, it is encouraged to have the correct tools,  i.e. boots, gloves if their hands are very sensitive and helmet. Fit is very important for safety.  Properly fitting riding pants are necessary for comfort and saddle care. Jeans are inappropriate for Dressage and can damage the saddle.
Want to learn more about what Janet offers? Call 858-735-0601 or Click Here to contact Janet.